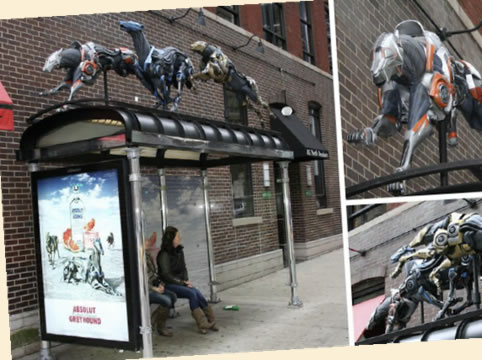 Los Angeles, CA (May 21, 2013) – The Outdoor Advertising Association of America (OAAA) presented 42 OBIE Awards, including top honors for Best Billboard; Best Street Furniture, Transit, or Alternative; and Best Multi-Format campaigns. The winners of the 71st annual OBIE Awards were honored on the closing night of the 2013 OAAA/TAB National Convention & Trade Show in Los Angeles, CA.
"The OBIE Awards honor the best of the best in out of home advertising design," said OAAA Chief Marketing Officer Stephen Freitas. "We look for executions and campaigns that deliver that 'wow' factor to engage consumers, and this year's winners have demonstrated what it takes to go above and beyond good creative to achieve exceptional OOH campaigns."
Droga5 took home the 2013 Best Billboard Campaign award for its "Day One" campaign developed for Prudential Financial. This billboard campaign revealed stories from real people about what retirement meant as they entered this new phase of life. Show Media/Dom Camera & Company was honored with the 2013 Best Street Furniture, Transit, or Alternative Campaign award for Bravo's "Interior Therapy with Jeff Lewis." The campaign branded and decorated a fleet of New York taxi cabs with various decor themes, offering free rides to delighted passengers on the streets of Manhattan. TBWA\Chiat\Day was presented with the 2013 Best Multi-Format Campaign award for ABSOLUT Greyhound. The campaign deployed a variety of out of home (OOH) advertising formats including billboards, bus shelters, bus wraps and walls - with and without extensions and 3D props - bringing to life the elegance and energy of greyhound dogs to herald ABSOLUT's new Greyhound cocktail.
Freitas added, "Each of these top campaigns made headlines by incorporating striking creative elements that prompted consumers to engage with the brand by sharing photos, visiting websites, and helping the brand to 'trend,' which is exactly where OOH is heading in today's new media landscape."
In addition to the top category awards, OAAA awarded 11 Gold OBIEs and 28 Silver OBIEs. Leo Burnett Chicago took home Gold and Silver OBIEs for its "Mayhem is Everywhere" Allstate Insurance campaign and the Sprint EVO "Unlimited Love" campaign, respectively. Laughlin Constable also took home Gold and Silver for the Wisconsin Department of Tourism and the Lung Cancer Alliance, respectively.
Legendary brand ESPN was honored with the 2013 OBIE Hall of Fame Award, recognizing the brand's consistent excellence in OOH advertising design over 33 years.